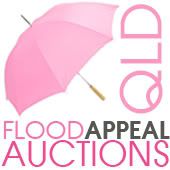 If you are a regular reader of australian craft blogs then I am sure you have already seen this, but the amazing
Toni from Make It Perfect
is organising a huge fundraiser for the victims of the horrific Queensland floods, and there are many, many craft blogs participating.
I thought I'd list a few here so you can see what is going on out there in our fantastic craft community...
Melissa Goodsell - Day to Day
Corrie - Retromummy
Chantal - Chantal Vincent Art
Jodie - Ric Rac
Kirsty - You Had Me At Bonjour
- auction is already up - a beautiful piece of fabric art
Fiona - Designs by Fee
Rita - Red Pepper Quilts
And that is just for starters. Many crafters are putting their hands up to help but have yet to blog about it. Officially the auctions are starting Monday 17th January, but there are a couple that are up already, including one from Toni.
I'll be showing my support with my bids this time round, and by spreading the word as much as I can. Every little bit helps, right?
And of course, direct donations can be made to the Queensland Government over
here
.
The devastation and loss these floods have caused (and are still causing) are horrific and widespread. My thoughts and prayers are with those affected, and my heart breaks for those who have lost loved ones.
Take care and stay safe xxx